MAYOR'S WEEKLY MESSAGE
Mayor's Weekly Message
This is the final week this spring for the City's "Free Large-Item Pick-Up" Campaign.   For more information, see the story in the "Latest News" on the right side of this page…or all 885-2520. Due to the observance of the Memorial Day Federal Holiday …
[read more...]
FEATURED BUSINESS

Something Special offers 4,000 square feet of shopping heaven on Indiana's First Main Street–Vincennes, Indiana. Inside you'll find a Vera Bradley store-within-a-store, gifts for any occasion, housewares & home decor in a variety of styles, plus holiday serveware & decor that changes with every season.
PHOTOS All city and featured images on this website are courtesy of the Vincennes Convention and Visitors Bureau.
SPOTLIGHT PROJECT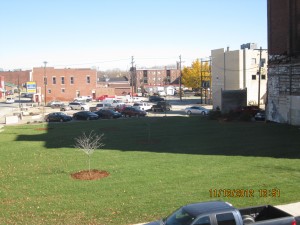 Working together with Vincennes University and Good Samaritan Hospital, the City was able to clean up the debris left downtown by the fire at Gimbel Corner on December 17, 2011. The City is grateful to all who had a hand in the cleanup and beautification of the lot.
View More Meeting Minutes...
May 13, 2013
Audio clip: Adobe Flash Player (version 9 or above) is required to play this audio clip. Download the latest version here. You also need to have JavaScript enabled in your browser.
April 22, 2013
Audio clip: Adobe Flash Player (version 9 or above) is required to play this audio clip. Download the latest version here. You also need to have JavaScript enabled in your browser.
April 8, 2013
Audio clip: Adobe Flash Player (version 9 or above) is required to play this audio clip. Download the latest version here. You also need to have JavaScript enabled in your browser.
View More Meeting Minutes...
May 13, 2013
Audio clip: Adobe Flash Player (version 9 or above) is required to play this audio clip. Download the latest version here. You also need to have JavaScript enabled in your browser.
April 22, 2013
Audio clip: Adobe Flash Player (version 9 or above) is required to play this audio clip. Download the latest version here. You also need to have JavaScript enabled in your browser.
April 8, 2013
Audio clip: Adobe Flash Player (version 9 or above) is required to play this audio clip. Download the latest version here. You also need to have JavaScript enabled in your browser.