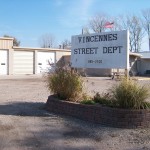 1600 Bayou Street
Phone: (812) 885-2520
The Street Department hours are 7:00 am to 3:00 pm, Monday-Friday.
The City Collection Site hours are 7:30 am to 2:15 pm, Monday-Friday and 8:30 am to 1:30 pm Saturday
2022 LEAF PICKUP GUIDELINES
Please do not mix limbs or other objects with your leaves, as this will plug up the intake hoses on the leaf vacuums. WE WILL NOT PICK UP PILES OF LEAVES WITH STICKS AND LIMBS MIXED IN.
 As a general rule, the department will be unable to pick up limbs during leaf pickup season.
The city's collection site on Old Terre Haute Road will be open 7:30 a.m. to 2:15 p.m. Monday through Friday for residents to dump their own yard debris, leaves, and limbs. People must empty their containers at the site and take those containers with them.
The day-by-day schedule is tentative and is subject to change due to unforeseen circumstances, such as mechanical problems as well as the weather. If anyone has any questions regarding the day of their pickup, please contact the office at 885-2520 between the hours of 7 a.m. and 3 p.m. weekdays.
All neighborhoods will be covered a second time until the end of the year.
2022 Leaf Pickup Schedule
WEEK ONE
OCTOBER  31st – NOV  4th Note: the term "Eastgate Area" refers to all the streets off Bruceville and Wheatland roads and Old U.S. 50 within the city limits.
 Willow St. to Main St. from South 2nd St. to South 18th St.  (including Bunker Hill area), Four Lakes area, and Eastgate area
WEEK TWO
NOVEMBER  7th– 10th
 Main St. to Hart St. from 1st St. to Felt King Rd. (including Memering Yates area).
 Weed Lane, Burnett Heights and Forrest Hills area
Closed Nov. 8th Election Day   Nov. 11th Veterans Day
WEEK THREE
NOVEMBER  14th – NOVEMBER 18th
1st St. to Kimmell Rd. from Hart St. to St. Clair
Jackson Heights and Wolf Hollow area.
WEEK FOUR
NOVEMBER 21st- NOV 23rd       
St. Clair Ave. to Niblack Blvd. From Oliphant Dr. to Wheeler Rd. area
Closed Nov. 24th and 25th Thanksgiving
CITY OF VINCENNES RECYCLING PROGRAM 
The following rules are subject to change without notice as the demand for recyclables changes in the marketplace. They apply to the city's curbside recycling program. Recycling is picked up Mondays.  If your neighborhood pickup falls on a holiday, your recycling will be picked up the following week.
Questions? Call the Street Department at 812-885-2520.
NEWSPRINT – Old newspapers are accepted, but they must be kept dry, as wet newsprint has no recycling value.
MAGAZINES – All magazines, hardback books, paperback books or telephone books are accepted.
JUNK MAIL OR OFFICE PAPER SUCH AS TYPING PAPER, COMPUTER PAPER OR ENVELOPES PLUS NEWSPAPER INSERTS ARE ACCEPTED.
GLASS – AS OF JULY 2, 2018 GLASS IS NO LONGER ACCEPTED.
PLASTICS – All must be rinsed clean. We cannot accept plastic grocery bags or Styrofoam packing material.
TIN, STEEL and ALUMINUM CANS – All are accepted. They must be clean of all food, but labels may remain.
CARDBOARD – We accept corrugated cardboard and items made of paperboard, such as cereal boxes. Cellophane windows must be removed from boxes, as must any sort of liner. PIZZA BOXES ARE NOT ACCEPTED due to contamination by sauce, grease, etc.
RULES UNIQUE TO CURBSIDE RECYCLING
TOTES – All recyclables MUST be placed curbside in the green totes available at the Vincennes City Clerk-Treasurer's Office, 201 Vigo – cost is $5 each. Recyclables placed in boxes, bags or loose will not be picked up.
DEADLINE – All totes must be street side (never in alleys) by 7 a.m. on the appropriate day.
CARDBOARD – Must fit into the green Recycling tote.
It is not necessary to separate items.
Plastics bottles, cans, cardboard, junk mail, magazines & newspaper will be picked up all together.
SNOW REMOVAL 
The Vincennes Street Department utilizes thirteen vehicles in its snow fighting efforts: two salt brine applicators, 3 ¾ ton pickups, 2 one ton trucks with salt spreaders and plows, and 3-6 heavy duty trucks with salt spreaders and plows. The Vincennes Street Department has 25 designated snow routes divided into 5 zones.
During a snow event the Vincennes Street Department will first concentrate on the designated snow routes in each zone.  Hills, overpasses, and bridges are also considered a first priority.  After snow routes are cleared and passable for traffic, the street department will clear roads around schools and begin to make passes through neighborhoods.
Designated Snow Routes
Route # 1– Washington Avenue to Brenda Drive
Wheatland Rd. (6th Street to city limits)
St. Clair Ave. (2nd Street to Kimmel Road)
Bruceville Rd. (Wheatland Rd. to Hillcrest Rd.
Route # 2– Willow St. (2nd St. to 6th St.)
2nd St.  (Willow St. to Niblack Blvd.)
Niblack Blvd. (2nd St. to Washington Ave.)
Red Skelton Blvd. (2nd St. to Oliphant Drive)
Route # 3– 6th St. (Vigo to US 41 N.)
Main St. (6th St. to Bauer Dr.)
Vigo St. (6th St. to 10th St)
Bayou St. (9th St. to 17th St.)
Route # 4– College Ave. (2nd St. to YMCA)
Hart St. (2nd St. to Bauer Dr.)
7th St. (Vigo St. to Washington Ave.)
10th St.  (Willow St. to Hart St.)
13th St. (Willow St. to Ritterskamp Ave.)
15th St. (Willow St. to Hart St.)
Route # 5– Niblack Road (Willow St. to city limit)
19th St. (Main St. to Hart St.)
17th St. (Bayou St. to Hart St.)
Forbes Rd.
McDowell Rd.
Frequently Asked Questions:
What is pre-treat?
This material is called salt brine. It is made by Street Department by mixing water with salt to create a solution of water with a 23% salt concentration. Under certain weather conditions pre-treat is applied to the city streets before a snow event.  Pre-treat puts a brine solution underneath the snow reducing the snow and ice from bonding to the pavement thus allowing the plows to better remove the snow.  Salt brine is most effective until temperatures drop below 20 degrees Fahrenheit.
Who clears sidewalks and driveways?
Both are the responsibility of residents and property owners. Residents should shovel snow into the yard if possible, not onto the street. Putting snow onto the street causes dangerously slippery conditions for both motorists and pedestrians. City crews try to avoid putting large piles of snow in front of driveways; however, this is not always possible.
Why do the snow plow operators plow my driveway shut?
It is impossible for the snow plow operator to plow the windrow from every driveway. Snow plows push snow, it is not a bucket with which you can pick up snow and deposit it elsewhere. To avoid having to double shovel, simply wait until after your street has been plowed to clear your driveway. If you must shovel before the snow plow gets to your street, shovel the snow to the passing side of your driveway (the left side when entering your driveway). The plow will be past your driveway when it hits the snow pile.
Other Helpful Tips
Do not park on snow routes during a snow event.
Please stay off the streets if you do not need to be on them. Traffic on the street increases the difficulty in plowing streets.
If you meet a snow plow on the street please pull to the side, giving it plenty of room to pass.
If you are following a snow plow please stay back a minimum of 75 feet.