City Council Districts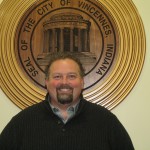 Brian Grove
DISTRICT 1

Phone: 812-881-5048 Email:bgrove03@gmail.com
BIO:  (to come)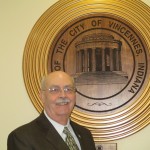 Dan Ravellette
DISTRICT 4
Phone: 812-882-2776 Email: danravellette@cinergymetro.net
BIO: I was elected to serve the citizens of Vincennes as a member of the City Council after more than twelve years of employment in City Hall.  My wife, Vickie and I are the parents of two children – Kelly and Jordan.
I graduated from North Knox High School in 1967 and continued my education from 1967 to 1969 by majoring in journalism at Vincennes University.  After proudly serving in the United States Air Force as a Morse Code Operator from 1969 to 1973, and receiving a Top Secret Security Clearance, I completed my education at V.U. by earning an A.S. Degree in broadcasting.  This enabled me to be employed in the field of broadcast sales, along with radio and T.V. broadcasting of local news and sporting events for over 20 years.
I have been involved with community organizations and boards by coaching for the Vincennes Cub League Baseball organization; coaching Vincennes YMCA basketball teams; instructing Junior Achievement classes; serving as a Church board member; being a member of the American Red Cross Board of Directors and volunteered to serve as the Master of Ceremonies for the Knox County 4-H Fair Queen pageant for 25 consecutive years.  I currently serve as the Executive Director of the Vincennes Urban Enterprise Association Zone; as a member of the Knox County United Way Board of Directors and an Associate Member of the Fraternal Order of Police
I attend the Community United Methodist Church.  My hobbies include broadcasting, writing and art.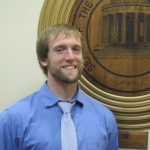 Tim Salters
AT LARGE
Phone: 812-890-0094
Email: salterstim@yahoo.com
BIO:  I have always had a interest in politics. I always found it educational, engaging and entertaining. I followed this interest throughout my years in high school and college and ended up getting a degree that allowed me to teach government. The years of teaching governmental theory, processes, policies, rights and responsibilities eventually got me thinking about what else I could do for my community. An opportunity to run for a city council seat in my district opened up and I saw an opportunity to get more involved and give back to the community I love. During my time on council I've learned that teaching government is far different than being in government. While the classroom is different than the council and the council is different than the classroom, this experience has allowed me to grow as an educator and a city servant. I look forward to continuing the growth and development of the city we all love.
Council Officers and appointees:
— President Pro Tempore
— Vice-President
— representatives to Knox County Development Corporation (KCDC)
— representative to KCDC Inter-Local Agreement Board
— representative to Knox County Area Plan Commission
— representative to Knox County Solid Waste Board
Committees:
Neighborhoods & Transportation – streets, sidewalks, & public transportation
Chair
Recreation, Tourism & Public Areas –  parks, trails, historic sites, arts, & visitors
Chair
Intergovernmental Relations – county, state, & non-profit partnerships
Chair
Budget & Public Safety –  budgeting & emergency responders
Chair
Community Development & Growth – economic vitality & balanced growth
Chair