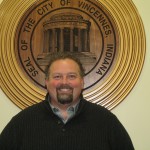 BRIAN GROVE
DISTRICT 1

Phone: 812-881-5048 Email:bgrove@vincennes.in.gov
BIO:  (to come)
ED GORNALL
DISTRICT 2
Phone: 812-881-8173
Email: EGornall@vincennes.in.gov
BIO:
I was elected to serve the citizens of Vincennes as a member of the Common Council in 2019. I am serving my first term for district two.  
I graduated from Bloomington High School in 1979 and continued my education from 1980 -1982 in Hospitality and Food Service Management at Vincennes University. After I completed my education at V.U. I worked in the food service industry and hospitality industry for twenty-one years. I have continued my career in the sales and marketing management field. I work for StickersAndMore.com a division of Indiana Forms and Labels in Washington, Indiana as a sales consultant. I fell in love with community and city after my time at V.U. and have lived here most of my adult life. 
I have served on a variety of community organizations and boards. I am a Graduate of Leadership Knox County class of 2009. Past President of the V.U. Alumni Association Alpha chapter. Past member of the Indiana University Fan Advisory Board. I currently serve as the chairperson for the annual Armor Bearers Men's conference. I also serve as a mentor and Community Head Cook for the Southwest Indiana Walk to Emmaus. I am a Knox County Chamber Ambassador. 
I worship at Bethany Christian Church Vincennes and serve in the middle school ministry.  My hobbies include spending time with family, baking, and attending sporting events. I look forward to serving our community as your district 2 city councilman. 
JOHN STANGLE
DISTRICT 3
Phone: 812-887-9637 Email: jstangle@vincennes.in.gov  
BIO
:  (to come)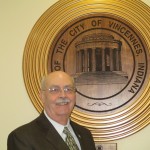 DAN RAVELLETTE
DISTRICT 4
Phone: 812-882-2776 Email: dravellette@vincennes.in.gov
BIO: I was elected to serve the citizens of Vincennes as a member of the City Council after more than twelve years of employment in City Hall.  My wife, Vickie and I are the parents of two children – Kelly and Jordan.
I graduated from North Knox High School in 1967 and continued my education from 1967 to 1969 by majoring in journalism at Vincennes University.  After proudly serving in the United States Air Force as a Morse Code Operator from 1969 to 1973, and receiving a Top Secret Security Clearance, I completed my education at V.U. by earning an A.S. Degree in broadcasting.  This enabled me to be employed in the field of broadcast sales, along with radio and T.V. broadcasting of local news and sporting events for over 30 years.
I have been involved with community organizations and boards by coaching for the Vincennes Cub League Baseball organization; coaching Vincennes YMCA basketball teams; instructing Junior Achievement classes; serving as a Church board member; being a member of the American Red Cross Board of Directors and volunteered to serve as the Master of Ceremonies for the Knox County 4-H Fair Queen pageant for 25 consecutive years.  I currently serve as the Executive Director of the Vincennes Urban Enterprise Association Zone; as a member of the Knox County United Way Board of Directors and an Associate Member of the Fraternal Order of Police
My hobbies include broadcasting, writing and art.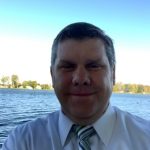 RYAN LOUGH
DISTRICT 5
Phone:
260-452-7950
Email: rlough@vincennes.in.gov  
I was recently elected by the good people of District Five to serve as their voice for the Vincennes City Council.I was born in Fort Wayne, Indiana and grew up in one of the smallest cities in Indiana, Woodburn. I attended Woodlan Jr/Sr High School and after graduation headed to Vincennes University where I majored in Horticulture. During that time, I was awarded the Indiana Secondary Education Award. Upon completing my degree, I headed off to Western Kentucky University to study Agricultural Education. I then served a 2 Year full-time mission for The Church of Jesus Christ of Latter-Day Saints. After I returned home, I met my wife Melissa and we were married in the Chicago Temple. We spent the first several years of our marriage in Cincinnati, and then had the career opportunity to move to Vincennes and have enjoyed raising our four children here.
Since 2006, I have had the opportunity to serve in many capacities in the community. I served seven years as the local bishop for The Church of Jesus Christ of Latter-Day Saints, served seven years on the Tree Board and Landscape Commission, served two years as the chairman for the Algonkian District of the Boy Scouts of America, served as a local Scout Master and Cub Scout leader for twelve plus years. Currently, I am a Rotary member and served as a board member for year. I recently was elected to serve on the Salvation Army Board. I serve as a Knox county volunteer for Disaster Relief for the Red Cross. I am currently employed by Vincennes University as an adjunct Professor of Horticulture and as the 1st Assistant in Grounds Care.
I enjoy spending my free time with my wife and children. We enjoy family vacations and spending time at our Michigan lake home, fishing, swimming, boating and being outdoors.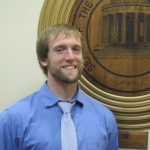 TIM SALTERS
AT LARGE
Phone: 812-890-0094
Email: tsalters@vincennes.in.gov
BIO:  I have always had a interest in politics. I always found it educational, engaging and entertaining. I followed this interest throughout my years in high school and college and ended up getting a degree that allowed me to teach government. The years of teaching governmental theory, processes, policies, rights and responsibilities eventually got me thinking about what else I could do for my community. An opportunity to run for a city council seat in my district opened up and I saw an opportunity to get more involved and give back to the community I love. During my time on council I've learned that teaching government is far different than being in government. While the classroom is different than the council and the council is different than the classroom, this experience has allowed me to grow as an educator and a city servant. I look forward to continuing the growth and development of the city we all love.
MARC McNEECE
AT LARGE
Phone: 812-887-3076
Email: mmcneece@vincennes.in.gov
COUNCIL OFFICERS AND APPOINTEES:
President Pro Tempore – Tim Salters
Vice-President – Brian Grove
Representative to Knox County Development Corporation (KCDC) – Tim Salters
Representative to Knox County Interlocal Cooperation Agreement Board – Brian Grove
Representative to Knox County Area Plan Commission – Marc McNeece
Representative to Knox County Solid Waste Board – Tim Salters
Representatives to Redevelopment Commission – Marc McNeece and Greg Parsley
Representatives to Urban Enterprise Association – John Stangle, Dan Osborne & Shane Lemlure
COMMITTEES:
Neighborhoods and Housing – Marc McNeece, Chair

Committee Members – Dan Ravellette and Ryan Lough
Committee Goal – Improving and strengthening our neighborhoods and researching ways to encourage single family home building/development.

Infrastructure – Dan Ravellette, Chair

Committee Members – Ed Gornall and Ryan Lough
Committee Goal – Improving, strengthening and building up roads, sidewalks and other infrastructure needs of  our community.

Public Safety and Security – John Stangle, Chair

Committee Members – Brian Grove and Tim Salters
Committee Goal – Improving and strengthening public safety and security in our community, by investing in our people, their training and their equipment.

Budget and Finance – Tim Salters, Chair

Committee Members – Brian Grove and Dan Ravellette
Committee Goal – ALWAYS PUT THE TAXPAYER FIRST. Focus on fiscal responsibility, while addressing the changing budgetary needs of our community.

Tourism and Promotion – Brian Grove, Chair

Committee Members – Ed Gornall and Marc McNeece
Committee Goal – Promoting , emphasizing and showcasing all of the exciting events and offerings of Vincennes.

Parks and Public Areas – Ryan Lough, Chair

Committee Members – Ed Gornall and Tim Salters
Committee Goal – Improving and strengthening the quality of life of our community by investing in our public parks and areas.

Communication, Outreach and Transparency – Tim Salters, Chair

Committee Members – Marc McNeece and Brian Grove
Committee Goal – Improving and strengthening communication, transparency and outreach with our community.

Intergovernmental Relations – Ed Gornall, Chair

Committee Members – John Stangle and Ryan Lough
Committee Goal – Building, strengthening and improving relationships with non-for-profits, businesses and the county.

Veteran's Committee – Dan Ravellette, Chair

Committee Members – John Stangle and Brian Grove
Committee Goal – to help our community with events for Veterans, help our Veterans find the resources they need and make our community more Veteran friendly.

Special Events, Programs and Projects  – Marc McNeece, Chair

Committee Members – Tim Salters and Brian Grove
Committee Goal – To plan and prepare for events, projects and ideas that are new, innovative and exciting. (Example: The upcoming Totality)