WALKING
Whether you are going on a nice friendly stroll or wanting to get in shape, the Vincennes Parks has plenty of walking opportunities for you.
Gregg Park has two different paths to choose from. You can either walk along the road inside the park or walk on the Vaughn Walking Trail.  The Vaughn Trail was completely redone in 2016 and is a great place to walk!  .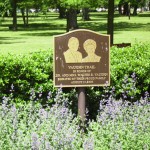 You may want to try the  Tecumseh Walking Trail which connects Gregg Park and Chicago Park. The trail can be accessed at either location.
There is signage that gives distances.
Maybe you would like to take a stroll down our Historic Riverwalk along the Wabash and enjoy the scenic views!
If you're looking for more of a workout head over to Lester Square Fitness Park and get a full body workout in while enjoying the fresh outdoors.
There are over 8 separate pieces that will provide a full body workout.  They are easy to use and suggested for ages 13 and older.
Plus if you're not exactly sure how to use any of the pieces they each have a QR code on them that you can scan a short 30-second tutorial video will show you how to properly use the machine!
We want to thank all the many sponsors who made this fitness park a reality!!!
Come out to Gregg Park and play a round of horseshoes or if you're looking for a little more you can join a league.  Go to the Vincennes Horseshoe League Facebook page for all the details!