VINCENNES PARKS DEPARTMENT VOLUNTEER PROGRAM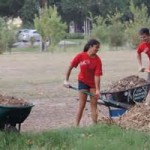 The VPRD is starting a NEW Volunteer Program! With tighter budgets and limited resources we need your help! This new program is for any individual, family, club, or business that wants to give back.  What better way to make a difference than to get involved and help make our community a better place.
Benefits of Volunteering
*  Play a role in advancing your community by helping in areas of need.
*  Help the VPRD provide the community with a variety of events throughout the year.
*  Help create pride within the community by enhancing our parks.
Give us a call at 812-882-1140 or email us at parks@vincennes.org and set up a date/time to get involved!